Employer and Law Firm Website Liability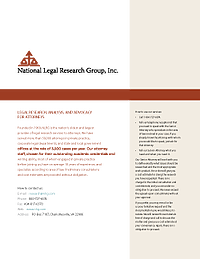 For most professional, commercial, and retail establishments, maintaining a website has become a matter of business necessity. Yet with its undisputed advantages, the operation of a website also presents new areas of exposure to liability for its owner or operator. Sources of potential liability include infringement (either in the domain name itself or in the content of the website), privacy (relating to the use of website user information or the posting of website content containing the name or likeness of a person), defamation (in the form of web content), reliance (based on information contained on the website and the use of that information), or accessibility (for visually impaired individuals).
For example, in October of 2007 the U.S. District Court for the Northern District of California granted class certification to a class consisting of "all legally blind individuals in the United States who have attempted to access Target.com and as a result have been denied access to the enjoyment of goods and services offered in Target stores." Nat'l Fed'n of the Blind v. Target Corp., 582 F. Sup. 2d 1185, 1189 (N.D. Cal. 2007). In an earlier decision, the court had held that the plaintiffs had stated a claim on behalf of visually impaired individuals under the "public accommodation" provision of the Americans with Disabilities Act, based on the retailers failure to make its website accessible to blind persons by including coding that would make the website compatible with screen-reading software that vocalizes text and describes graphics. Nat'l Fed'n of the Blind v. Target Corp., 452 F. Supp. 2d 946 (N.D. Cal. 2006).
In another decision, a real estate title company that assured consumers that it maintained "physical, electronic, and procedural safeguards" to protect its personal information but that nonetheless discarded unshredded consumer home loan applications into an open trash dumpster, faced FTC charges that its inadequate storage and disposal procedures for sensitive consumer information violated federal law. In re Nations Title Agency, Inc., F.T.C. File No. 052 3117, 2006 WL 1367834 (May 10, 2006). The charges were ultimately settled for an undisclosed amount.
The attorneys of the National Legal Research Group have prepared a White Paper that analyzes the many potential sources of website liability and shows owners/operators of websites how they can avoid liability. This White Paper includes actual examples of how some website owners/operators have been exposed to liability and how others have avoided liability. We have also prepared a White Paper that addresses the special problems involved in law firm websites, including compliance with ethics and lawyer advertising rules. If you or your clients operate a website, you need to be aware of the legal implications. These White Papers gather together the information you and your clients need to cover all the bases. The cost of either White Paper is $50.
Employer and Law Firm Website Liability - Law Office Edition
Employer and Law Firm Website Liability - Standard Edition