November 21, 2018
Dr. Frederick's ABA Books on Jury Selection Part of 40% Off Cyber Monday Sale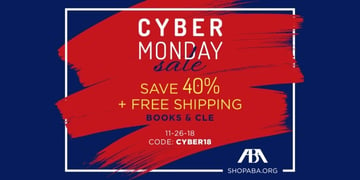 Cyber Monday Sale – 40% Off + Free Shipping
Shop and save one day only with promo code CYBER18 on books, eBooks, and on-demand CLE products.
Cyber Monday - November 26
Available at: https://www.americanbar.org/products/publishing/cybermonday2018/
If you need any assistance purchasing a product, please call the Service Center at (800) 285-2221.
ALSO, DON'T FORGET: Dr. Frederick will be presenting a free 60-minute program based on his book, "Mastering Voir Dire and Jury Selection: Gain an Edge in Questioning and Selecting Your Jury," for the ABA Solo Small Firm and General Practice Division's November 21, 2018, session of Hot Off the Press telephone conference/podcast at 1 p.m. EST. There is no registration or fee required. All you have to do is call the Dial-In Number and use the Conference ID listed below.
Read More